Abu Dhabi City tour: Abu Dhabi is the capital of the United Arab Emirates. One of the most visited cities in the Middle East. A city tour of Abu Dhabi is an excellent way to explore this beautiful city. Here is some information to help you plan your tour:
Customers from all over the world are called to book Abu Dhabi City Tour from our online platform EmiratesTrips.ae. Customers can book Morning Desert Safari, Evening Desert Safari, and City Tours on our website at exclusively discounted prices.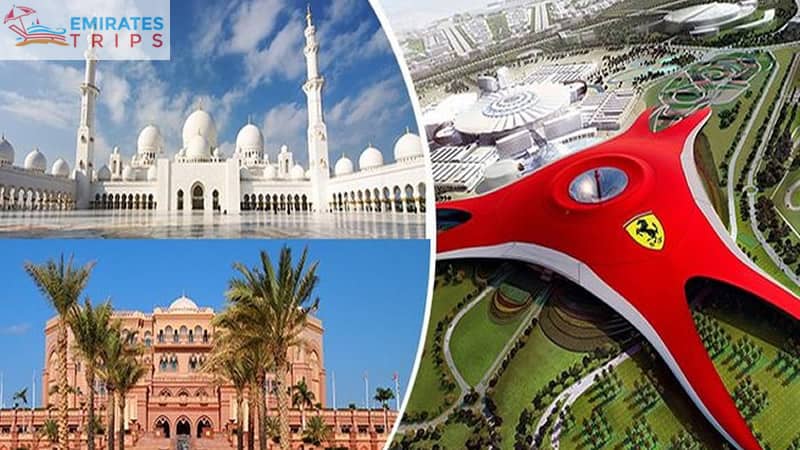 Sheikh Zayed Grand Mosque: This mosque is one of the most iconic landmarks in Abu Dhabi and is a must-visit site. It is the largest mosque in the UAE and can hold up to 41,000 worshippers at once. The mosque features stunning white marble architecture and has 82 domes, 24-carat gold-plated chandeliers, and the world's largest hand-knotted carpet.
Emirates Palace:
The Emirates Palace is a luxury hotel that is worth a visit, even if you're not staying there. The hotel is known for its opulent interiors, including a 1.3-kilometer private beach, and 114 domes. A lavish gold and marble interior.
Yas Island: Yas Island is an entertainment destination that features Ferrari World, Yas Water world, and Warner Bros World. Ferrari World is a theme park dedicated to the Ferrari brand. It has the world's fastest roller coaster, the Formula Rossa, which can reach speeds of up to 240 km/h.
Saadiyat Island: Saadiyat Island is a cultural hub that features several museums and galleries. Including the Louvre Abu Dhabi, which is home to many famous artworks. The island is also home to the Zayed National Museum. Which is dedicated to the late Sheikh Zayed bin Sultan Al Nahyan, the founder of the UAE.
Abu Dhabi Corniche:
The Abu Dhabi Corniche is a scenic road that stretches for eight kilometers along the coast of Abu Dhabi. It features a beautiful beach, several parks, and many restaurants and cafes.
Heritage Village: The Heritage Village is a recreation of a traditional Emirati village. Complete with a mosque, a souk, and a museum. Visitors can see traditional crafts being made, such as pottery, weaving, and glassblowing.
Qasr Al Watan: Qasr Al Watan is a new cultural landmark in Abu Dhabi and is the palace of the UAE's ruling family. The court is a stunning example of Islamic architecture and features a library, a mosque, and many exhibition halls.
EmiratesTrips.ae offers Desert Safari Tours for worldwide customers at the best prices. Customers can buy Evening Desert Safari Tour at exclusively discounted prices.
These are just some of the places you can visit on an Abu Dhabi city tour. Other attractions include the Abu Dhabi Falcon Hospital, the Observation Deck at 300, and the Abu Dhabi Mall.
Ferrari world complete information during the Abu Dhabi city tour
Ferrari World is one of the most popular tourist attractions in Abu Dhabi. It is a must-visit destination for car enthusiasts and thrill-seekers. Here is some information to help you plan your visit:
Location: Ferrari World is located on Yas Island, which is about a 30-minute drive from downtown Abu Dhabi. It is easily accessible by car or public transport.
Theme: As the name suggests, Ferrari World is a theme park dedicated to the famous Italian sports car brand. The park features several Ferrari-themed rides and attractions, as well as dining and shopping options.
Abu Dhabi City Rides:
Ferrari World is home to several high-speed roller coasters and other thrill rides. The most popular ride is Formula Rossa, the world's fastest roller coaster. Which can reach speeds of up to 240 km/h. Other popular rides include Flying Aces, which has the world's highest loop. Turbo Track, which is a vertical coaster that shoots riders up through the roof of the building.
Attractions: Besides the rides, Ferrari World features several other attractions, including a virtual reality experience called "Viaggio in Italia,". Which takes visitors on a tour of Italy in a Ferrari. The park also has several simulators and interactive exhibits that allow visitors to learn about the history and engineering of Ferrari cars.
Dining and shopping: Ferrari World has several dining options, ranging from fast food to fine dining. The park also has several shops that sell Ferrari merchandise, including clothing, accessories, and souvenirs.
Accessibility:
Ferrari World is accessible to visitors with disabilities, and the park has several services and facilities to accommodate them. The park provides wheelchairs, and most of the rides are accessible to guests with disabilities.
Tickets: Tickets to Ferrari World can be purchased online or at the park's ticket counter. The park offers several types of tickets, including general admission, fast-track, and annual passes. It is advisable to book tickets in advance, especially during peak season, to avoid long queues.
These are just some of the highlights of Ferrari World. Whether you're a Ferrari fan or just looking for an adrenaline-packed day out, Ferrari World is an excellent addition to any Abu Dhabi city tour itinerary.
We are Offering tours customers can book Desert Safari Dubai Tour through our trusted online marketplace. Emirates Trips is the most reliable source to book Desert safari Dubai tours.